06.05.2014
Competitions are a fantastic way to gain experience and perhaps even get noticed by some top industry professionals. There's always something to enter, and although it can sometimes feel like a challenge in itself to find the time, the benefits go beyond the competition prizes. In a (still relatively new) creative area like 3D printing, design competitions can be really rewarding – and can also seriously help to drive the industry's developments and approaches. With this in mind, 3D Printshow are proud to be involved in Bee Very Creative's fantastic 3D Print World Challenge, which we really encourage all aspiring designers to enter!
The brief is simple: create a 3D printable model in STL format that falls into one of the following categories: Architecture, Design (fashion, jewellery, decoration, art) or Utilities (gadgets, household and office devices, games). Enter by June 17th 2014 – and once your printable model has been received, it'll be test printed on a BEETHEFIRST 3D printer. If it successfully passes the print test, it will be entered – and the fantastic prize is a BEETHEFIRST 3D Printer and eight differently coloured spools of filament. There will be one printer up for grabs for each category, and 3D Printshow are part of the jury!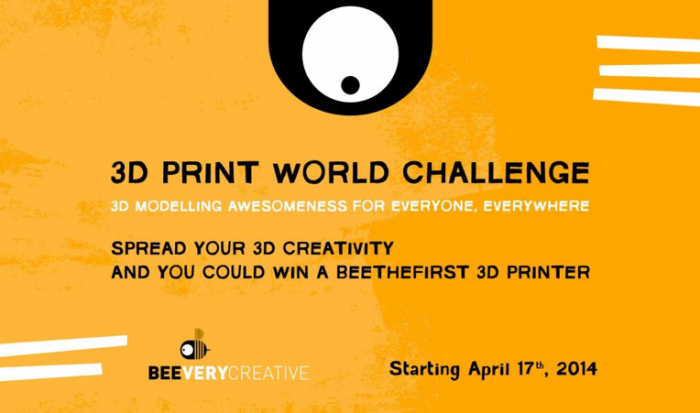 Head over to the competition website for more information – but most importantly, get designing!